March/April 2017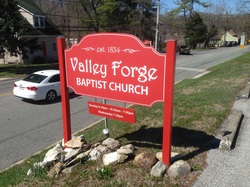 Valley Forge Baptist
Church Newsletter
Serving the Lord, the Lost and Each Other
---
We at Valley Forge believe that we are here to be obedient to the Lord and seek to obey and serve His purposes as best we are able. We believe that we can best do that by study of the Word of God and worship of Him together, as well as other fellowship and service opportunities on a regular basis. We believe that every believer can draw strength and encouragement from one another by diligent and purposeful fellowship with each other.
'Which of you by being anxious can add a single cubit to his life's span?'" (Matthew 6:27).
From: Strength For Today Daily Devotional

You can worry yourself to death, but not to life.

Dr. Charles Mayo of the renowned Mayo Clinic wrote, "Worry affects the circulation, the heart, the glands and the whole nervous system. I have never met a man or known a man to die of overwork, but I have known a lot who died of worry." We live in a day when people worry about how long they will live. That's a harmful practice because you can worry yourself to death, but not to life.
In Matthew 6:27 Jesus said that worry cannot "add a single cubit" to a person's life span. A cubit was the distance from the elbow to the tips of the fingers—about eighteen inches. He was saying, "Which of you by worrying can lengthen your life?" Exercise and good health can help you function better while you're living your span, but you can't worry yourself into a longer life.
The quest for living longer is not new. In the early sixteenth century, Spanish explorer Juan Ponce de Leon set out to find the fountain of youth, a spring whose waters had the power to restore youth. Although no such fountain exists, there is something far better: a fountain of life. Proverbs 14:27 says, "The fear of the Lord is a fountain of life, that one may avoid the snares of death." By fearing the Lord you will experience life to the fullest and not worry. Proverbs 9:10-11 says, "The fear of the Lord is the beginning of wisdom, and the knowledge of the Holy One is understanding. For by me your days will be multiplied, and years of life will be added to you." I believe the Lord has sovereignly determined each person's life span—He has designed how long you will live. And He gives you the gift of life because He wants you to enjoy it to the fullest by fearing and obeying Him.

Suggestions for Prayer
· Praise the Lord that you may enjoy life fully by fearing Him.

For Further Study
· According to John 10:10, why did Jesus come?







My Joy...Your Joy!

From: My Utmost for His Highest

That My joy might remain in you, and that your joy might be full. (John 15:11)

What was the joy that Jesus had? It is an insult to use the word happiness in connection with Jesus Christ. The joy of Jesus was the absolute self-surrender and self-sacrifice of Himself to His Father, the joy of doing that which the Father sent Him to do. "I delight to do Thy will." Jesus prayed that our joy might go on fulfilling itself until it was the same joy as His. Have I allowed Jesus Christ to introduce His joy to me?
The full flood of my life is not in bodily health, not in external happenings, not in seeing God's work succeed, but in the perfect understanding of God, and in the communion with Him that Jesus Himself had. The first thing that will hinder this joy is the captious irritation of thinking out circumstances. The cares of this world, said Jesus, will choke God's word. Before we know where we are, we are caught up in the shows of things. All that God has done for us is the mere threshold; He wants to get us to the place where we will be His witnesses and proclaim Who Jesus is.
Be rightly related to God, find your joy there, and out of you will flow rivers of living water. Be a center for Jesus Christ to pour living God is as natural as breathing wherever it goes. The lives that have been of most blessing to you are those who were unconscious of it.​



Honor Those Whose "Labor" Enables us to Live Comfortably!!



It is the work of our hands that puts food on our tables!!