March/April 2017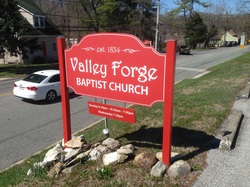 Valley Forge Baptist
Church Newsletter
Serving the Lord, the Lost and Each Other
---
We at Valley Forge believe that we are here to be obedient to the Lord and seek to obey and serve His purposes as best we are able. We believe that we can best do that by study of the Word of God and worship of Him together, as well as other fellowship and service opportunities on a regular basis. We believe that every believer can draw strength and encouragement from one another by diligent and purposeful fellowship with each other.
Becoming Holy
1 Peter 1:15-16
"But like the Holy One who called you, be holy yourselves also in all your behavior; because it is written, 'You shall be holy, for I am holy.' "
God requires holiness and in Christ provides us the means to attain it.
As we have learned, God is holy, and absolute holiness is the standard for anyone who wishes to be in His presence. "God did not spare angels when they sinned, but cast them into hell and committed them to pits of darkness, reserved for judgment" (2 Peter 2:4). In the same way, men who reject God are sent "into the eternal fire which has been prepared for the devil and his angels" (Matt. 25:41).
How then can anyone become holy? There's only one way: through faith in Jesus Christ. It is through Christ's sacrifice for us that God can credit holiness to our account (2 Cor. 5:21). First Corinthians 6:11 says, "But you were washed, but you were sanctified [made holy], but you were justified in the name of the Lord Jesus Christ, and in the Spirit of our God." We are now called saints, and the Greek word for this in Scripture actually means "holy ones."
So, by God's grace we are positionally holy. By contrast, however, we are too often unholy in practice. But the Bible says, "Be holy yourselves also in all your behavior" (1 Peter 1:15) and "Let every one who names the name of the Lord abstain from wickedness" (2 Tim. 2:19). We need to be separate from the way the world lives. We need to let others know there is a difference in how Christians live.
When we live holy lives, we will have peace. "There is no peace … for the wicked" (Isa. 57:21), but God "disciplines us for our good, that we may share His holiness" (Heb. 12:10). And that discipline "yields the peaceful fruit of righteousness" (v. 11). If you lack peace, you may well have let sin come between you and God. If so, follow David's example in Psalm 51:9–10 and pray for a clean heart. You should also spend time with those who lead holy lives (Prov. 13:20; compare 1 Cor. 15:33).

Suggestions for Prayer:
Thank God again that He has made you positionally holy in Christ. ✧ Confess any sins you are aware of, and pray that you would live righteously today.

For Further Study:
Answer the following questions, based on 2 Corinthians 5:14–21: What did Christ do for us on the cross? ✧ What happened to us when we were saved? ✧ How should we live as a result?​







I Am the Bread of Life

by Pastor Bill Farrow

Christ's preaching has a tendency to shock our sensibilities. One of His most vexing statements occurs in the gospel of John: "He who eats My flesh and drinks My blood has eternal life" (John 6:54).

All sorts of theories and theological mischief have been concocted around those words. They were simply too disturbing for most of Jesus' disciples who subsequently abandoned Him (John 6:66). Early on in church history that statement was the cause of pagan rumors that Christians practiced cannibalism. And Roman Catholics now use John 6:54 as justification for their belief that the elements of the Lord's Table—the bread and the wine—are literally Christ's flesh and blood.
Like most troubling theological issues, biblical context is critical if we are to come to a right understanding of Christ's words in John 6:54. And John MacArthur does just that in his sermon, "I Am the Bread of Life." In it he walks us through John 6:32–59 to bring clarity concerning Jesus' discourse on Himself as the true eternal food all men need.
Hunger is a natural part of the human experience. We were created by God with a built-in desire for sustenance when our body lacks what it needs. But spiritual hunger is far more elusive to those who are spiritually destitute.
John 6 signifies the high-water mark of Christ's ministry by every external metric of human success. His popularity had peaked as crowds thronged around Him. Stories of His miracles were spreading far and wide. And His expertise in all matters threatened the influence of every other established religious leader.
But Jesus wasn't swayed by the veneer of a growing kingdom. Miraculously feeding thousands of hungry people in the desert (John 6:1–14) only inflamed their desires for more temporal satisfaction. They wanted more, but their hunger didn't extend beyond their empty bellies.
John MacArthur's message, "I Am the Bread of Life" digs right into the discussion between Christ and His legions of followers. He explains what really transpired and why Christ continually referred to Himself as "the bread of life" in contrast to the perishable bread the crowds longed for. And he reveals how God is the author of spiritual hunger as well as physical hunger. Ultimately, Pastor John answers two fundamental questions: Where do we find the bread of life, and how do we eat the bread of life?
Those questions form the dividing line between those who are Christ's true disciples and those who are false disciples destined for apostasy. Answering them explains how we are to eat Christ's flesh and drink His blood and inherit eternal life.





Honor Your
​Father!!!



The 4th of July will Soon Be Here!